Something strange is afoot at the Mayfield Dairy. During the past year, they have discontinued their very best flavor, Caramel Coyote. This saga began last summer when my family noticed that Caramel Coyote was no where to be found in Knoxville area grocery stores. By this past winter, we were so desperate that we contacted Mayfield. The response was heartbreaking: "Caramel Coyote has been discontinued due to declining sales."
However, the story doesn't end there. This past weekend, I toured the Mayfield Dairy as a part of the National Moofest, and I discovered evidence that points to a full-blown ice-cream conspiracy. Therefore, in order to return Caramel Coyote to its rightful place in the Mayfield product line, I am offering this post as a virtual petition to bring back Caramel Coyote.
Caramel Coyote fans (and I know you are legion), read this post and "sign" your name by commenting at the bottom.
Declining Sales?! A Ludicrous Scenario!
As I referenced before, my father contacted Mayfield Dairy on behalf of our family. A Mayfield representative replied saying that our favorite flavor has been discontinued due to poor sales. We were shocked and outraged. First of all, such a response suggests insanity. Anyone who has ever tasted Caramel Coyote knows that a "declining sales" scenario is ludicrous! For those who haven't tasted Caramel Coyote, a brief digression is in order:
Imagine waves of rich caramel ice cream and caramel ribbons wrapping around your tongue. As the sensation washes away, you find delightful caramel filled chocolate cups littered about like float toys waiting to be savored and enjoyed. Each bite leaves you heading out for more. You find yourself awash in a sea of creamy caramel goodness.
Alas, for the past year, Caramel Coyote has only been this sweet memory lingering in my mind and tantalizing my tongue. It is the same for the fifteen other lactose tolerant members of my family. What's more, anytime we had guests over their comments were all the same: "This is the best ice cream we have ever tasted!"
The evidence does not match the claim! How can the best ice cream we've ever tasted suffer from poor sales!?
My Theory: An Ice Cream Conspiracy
Judging from our experience, I think Caramel Coyote was doomed from the beginning. Soon after my parents discovered it, my wife and I searched for it in four local grocery stores only to find it sold out or not stocked everywhere we looked. I remember many weeks with my wife and I getting home from the grocery store heartbroken with no Caramel Coyote.
I should have realized it then, but now I can see it clearly: Someone in the Mayfield Dairy was jealous of Caramel Coyote. Rather than shipping the ice cream, this conspirator was secretly diverting the shipments. I suspect he or she is a Moose Tracks, Mint Chocolate Chip, Vanilla or Chocolate fan. One taste of Caramel Coyote and he knew the flavor's power to sway the masses. So, rather than sharing the ice cream spotlight with this new kid on the block, he devised a plan of attrition, limiting shipments of Caramel Coyote so that accounting would conclude the flavor should be pulled from the lineup.
Preposterous you say? That's exactly what I thought until I visited the Mayfield Dairy this past weekend.
We Found the Caramel Coyote Stockpile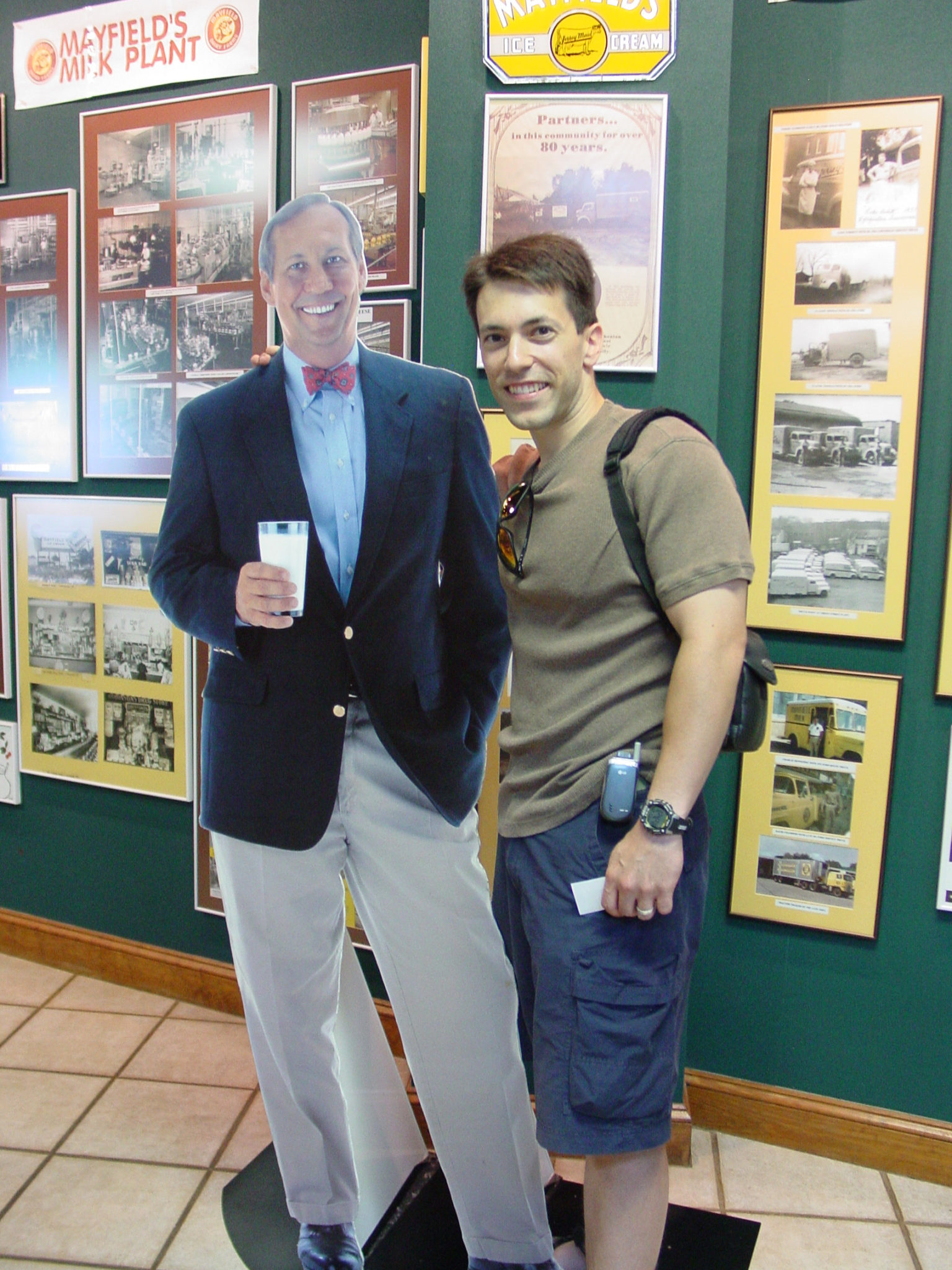 My friends and family can attest that it has long been a dream of mine to tour the Mayfield Dairy. I hold Scottie Mayfield in the same regard that Charlie held Willie Wonka. Arriving on their Athens, Tennessee campus, I felt like the proverbial "kid in a candy shop." Beth and I posed for a picture in front of the Mayfield Dairy sign. I kept thinking Scottie Mayfield might pop out at any moment. There must have been forty or more Mayfield t-shirts in the gift shop, not to mention hats, postcards and more.
Then it happened. One of our friends [Mark] came over to tell me that the ice cream shop had Caramel Coyote. My eyes grew to the size of saucers. I couldn't think. I'm sure I staggered. I wanted to be reunited that instant, yet it was our turn to tour the plant.
Despite the fact that I was getting to see the insides of the world's greatest dairy, it was hard to stay focused. I wasn't even interested in the Mayfield Oompa-Loompas or the songs they sang. Instead all I could think about was caramel ice cream, caramel ribbons and caramel filled chocolate cups while Peaches and Herb's Reunited played over and over in my mind.
Once the tour was over, I strode over to the ice cream counter still wearing my protective red hairnet. A reunion never tasted so good. Five minutes later I discovered I was standing outside with Beth, Mark, Laura and Angie. I had no idea how I'd gotten there as the bliss of the proceeding moments gradually wore off.
So, Mayfield Dairy *still* has Caramel Coyote in their gift shop!? What did this mean? This week as I've thought about it the conspiracy has crystallized before my eyes: The Mayfield Conspirator is pawning off his stockpile of Caramel Coyote to the Mayfield gift shop! I even ate some of the evidence!
We Must Act Now!
If you share my passion for Mayfield Caramel Coyote ice cream, then please join me in petitioning Scottie Mayfield and Mayfield Dairy to bring it back to stores. To do so, simply share your opinion by commenting at the bottom of this post. Together we can overturn this conspiracy and return Caramel Coyote to its rightful place of ice cream prominence.
Footnotes
The story of Caramel Coyote gets even stranger when you search for it on the web. Consider these listings in order of their appearance on Google:
Mayfield Blog: Mayfield Day at the Ice Chalet – In this blog post, Scottie Mayfield talks about visiting the Ice Chalet in Knoxville and letting the skaters sample their new flavors of ice cream. There is no mention of Caramel Coyote in the post; however, three successive commenters use the post to request that Mayfield should bring back Caramel Coyote. Furthering suspicions, commenting on this post has subsequently been disabled. I suspect whoever is running the Mayfield blog did this to silence further outcry.
Mayfield Blog: Nurture Milk by Mayfield – Even stranger is the first comment on this post about Nurture milk (i.e. keep in mind the post has nothing to do with ice cream). A commenter known as "searching for caramel" writes, "Where is Caramel Coyote? It is our favorite and usually only ice cream and I haven't been able to find it for months!!! Please do not abandon this ice cream! There is no other like it." This is followed by a comment from Jan Montgomery in Mayfield Consumer Affairs who scoops out the same "discontinued because of poor sales" schpeal.
Beyond the above listings, there simply isn't much else on the web mentioning Caramel Coyote. Therefore this post should serve as a point of action for the many disenfranchised Caramel Coyote lovers out there. If this is you, be sure to comment and let your voice be heard.