I'm taking the day off, and our family is headed inside the path of totality for today's Great American Eclipse 2017. Here are a couple of my thoughts as we prepare to head out.
We live just a couple miles north of the northern edge of totality. All along our plan has been to venture as far into the path of totality as possible. However, we live in East Tennessee, and our area is the second largest "drive-shed" within the path of the eclipse. That means an estimated 360,000 to 1,444,000 people may be traveling to our area.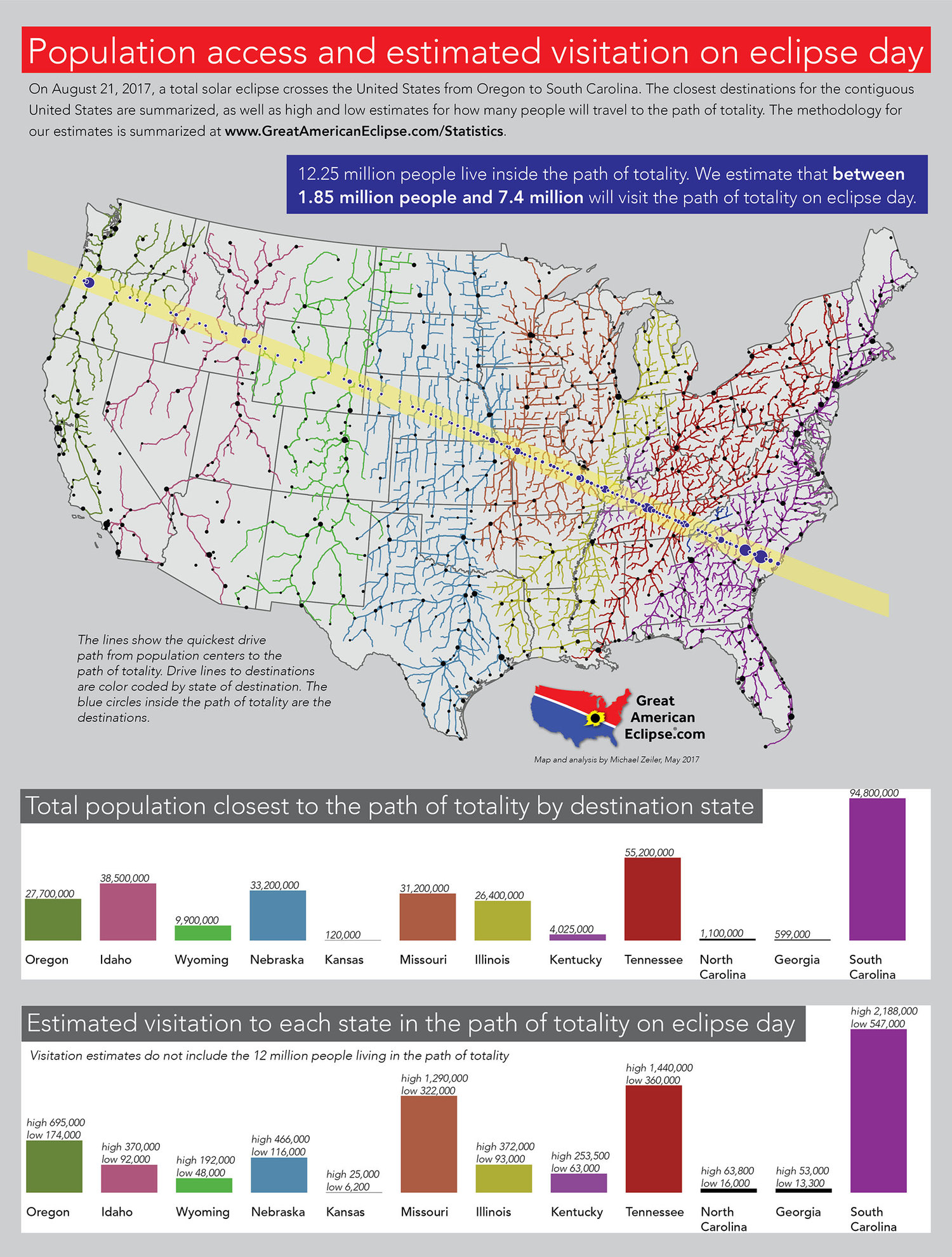 Due to the predicted congestion in the center of totality, we figured there's no way we could get anywhere close since we're leaving today. However, given our knowledge of the area, we've been scouring maps of the eclipse to find that "just right" spot where we can observe 2+ minutes of totality. Our destination had been fluid up until yesterday when we secured a last minute invite to a lake house owned by some friends of our friends. Looking at the map, it turns out this lake house should receive over 2'10" of totality. That's better than what we'd been hoping for, so we're super excited.
I've been geeking out about this eclipse ever since it came to my attention last year. Now that eclipse day is here, I must say that the prospect of seeing a total eclipse has me so excited. I've never seen a total eclipse before, and the fact that it is happening in our back yard along with being visible coast-to-coast makes it that much cooler. Given the 12.25 million people who live within the path of totality and the predicted 1.85 to 7.4 million people who will visit the path on eclipse day, this eclipse may very well be the most witnessed one in history.
There are a lot of variables that must align for our family and everyone else to have a successful viewing: weather, travel, navigating the crowds, etc. Now that eclipse day is here, it looks like things are a go for us. Here's hoping you guys have a great viewing too.
Update: #Eclipse2017 did not disappoint. We had close to 2'20" of totality in Kingston, TN. It was an amazing sight to see the sun's corona and Venus.
[Chart source: Predicting eclipse visitation with population statistics – Great American Eclipse]